Fairyhill Wedding Photographer
Need a Fairyhill Wedding Photographer? If you're planning your wedding at Fairyhill, and looking for a wedding photographer to document your day creatively whilst you enjoy your wedding day, read on! Especially if you're looking for a wedding photographer that isn't rude and won't talk you into things you won't want to do. Read my reviews on Google to see for yourself.
Fairyhill Wedding Photography Examples
Here are some examples of wedding I have photographed at the stunning Fairyhill in Gower, South Wales.
Kat and Dayn's Fiaryhill wedding, South Wales
Charlotte and Stephen's Wedding at Fairyhill
More examples of wedding photography at Fairyhill, South Wales
My first wedding at Fairyhill
Shortly after the Oldwalls Collection had bought Fairyhill, Jodie and Gareth booked me to photograph their wedding days at Fairyhill. They had a two day celebration, first with close family, followed by another with their extended family and friends. I was so happy to be one of the first wedding photographers to photograph a wedding at this new and stunning wedding venue!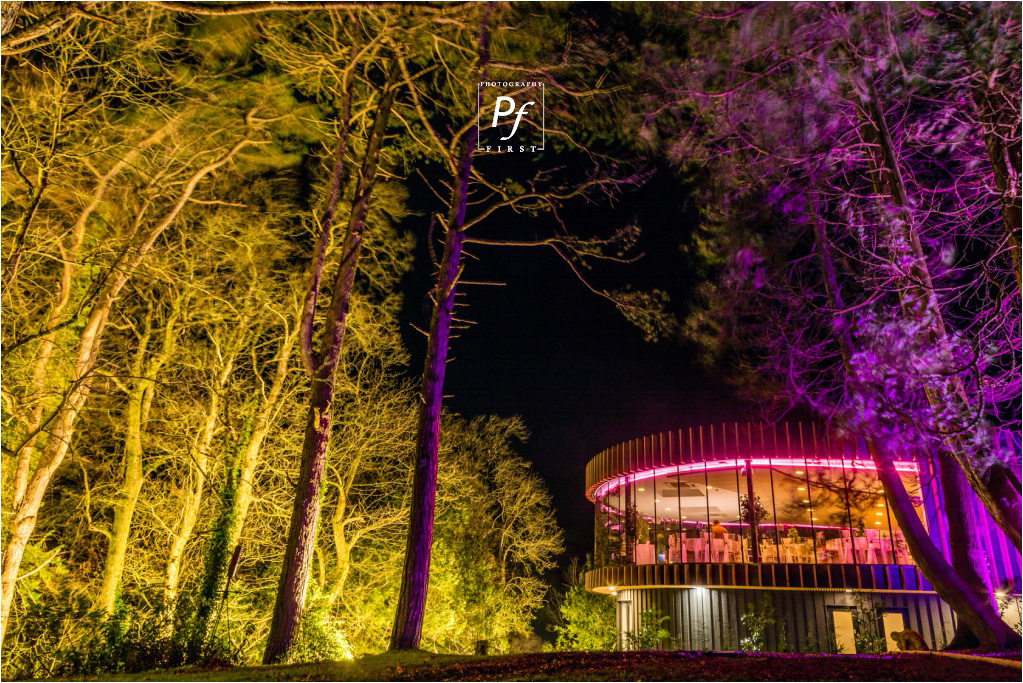 Food at Fairyhill
As a wedding photographer working at Fairyhill, I can proudly say we're treated very well, the food and service is just fantastic/ If you're a foodie, then you must try their food, you'll love it.
But that's not just my experience as a wedding photographer. When Oldwalls first acquired Fairyhill, they still kept the resturaunt open for a while. I'm not sure what the reasons are, maybe because they wanted to honour the bookings they'd already had. Anway, I surprised my wife Heidi for a romantic meal at Fairyhill. I just told her we were going for a meal, and just started driving into the Gower, then into the country lanes, she had no idea where I was taking her, haha. But she did eventually see the sign posts pointing to Fairyhill!
Turning up, we were met with the friendly staff, have a drink at the reception, our drinks were carried to the table for us when we were ready to sit. We had a lovely window view of their gardens in the light and airy back room, now the middle room with the K-Room built.
Anyway, we love our food, and have experience many Rosette resturaunts and even the Michilin rated Fat Duck by Heston Blumenthal. So we know good food when we see and eat it. This isn't me raving on about where I have been and what I have done, I wanted to give you background information, so you know where I'm coming from when I say the food here is good.
So that's the food, how about as a Swansea Wedding Photographer? Read on..
Getting Ready at Fairyhill
If you're getting ready at Fairyhill, you'll be in the roomy bridal suite upstairs. At least that where my bride was when the K Room wasn't built. So it maybe in a different location now, check with Faiyhill. But I'm pretty sure that's still the bridal suite, after all, it's a lot bigger than the newly build accomodation under the K Room.
So if you're having your ceremony in the K Room at Fairyhill, then you're just seconds away from your wedding ceremony. A lot of photographers also use this room, and also the adjacent room for group photos too.
Speaking of your wedding ceremony, once you're ready, we'll get the classic portraits of you by the large windows showing off the back of your dress. See how I photograph your wedding day to find out in more detail how I approach wedding photography.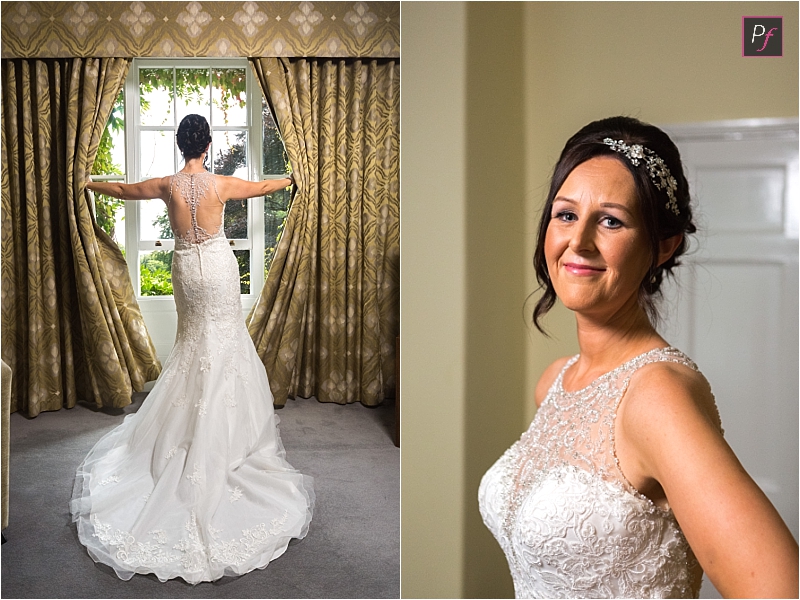 Ceremony at Fairyhill's K Room
Fairyhill's K Room was built after my first wedding there, it was built with the surroundings in mind. Blending into the woodland whilst having a twist of modernisation. It's simply stunning.
I just love the row of windows circling around the K Room giving you and your guests a panoramic view of the woodland around the grounds of Fairyhill.
With all that glass, you'd imagine there'd be finger prints etc everywhere, that's not the case. I'm always early at weddings, and I see the staff cleaning the windows before every ceremony. Fairyhill take pride in their wedding venue and make it perfect for you and your partner!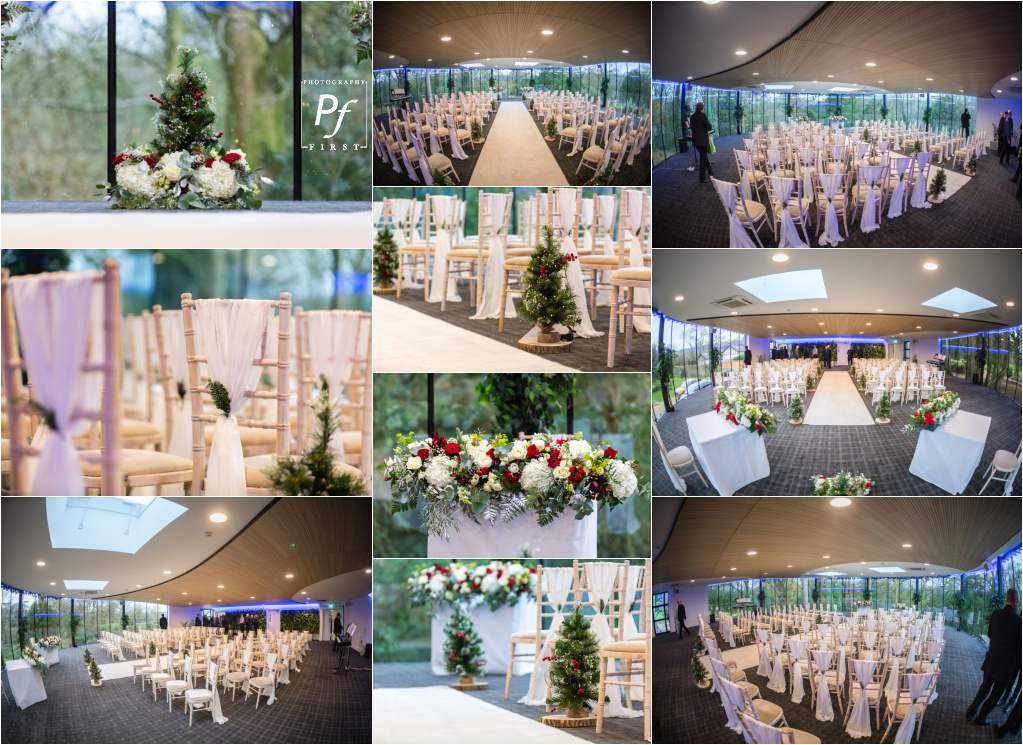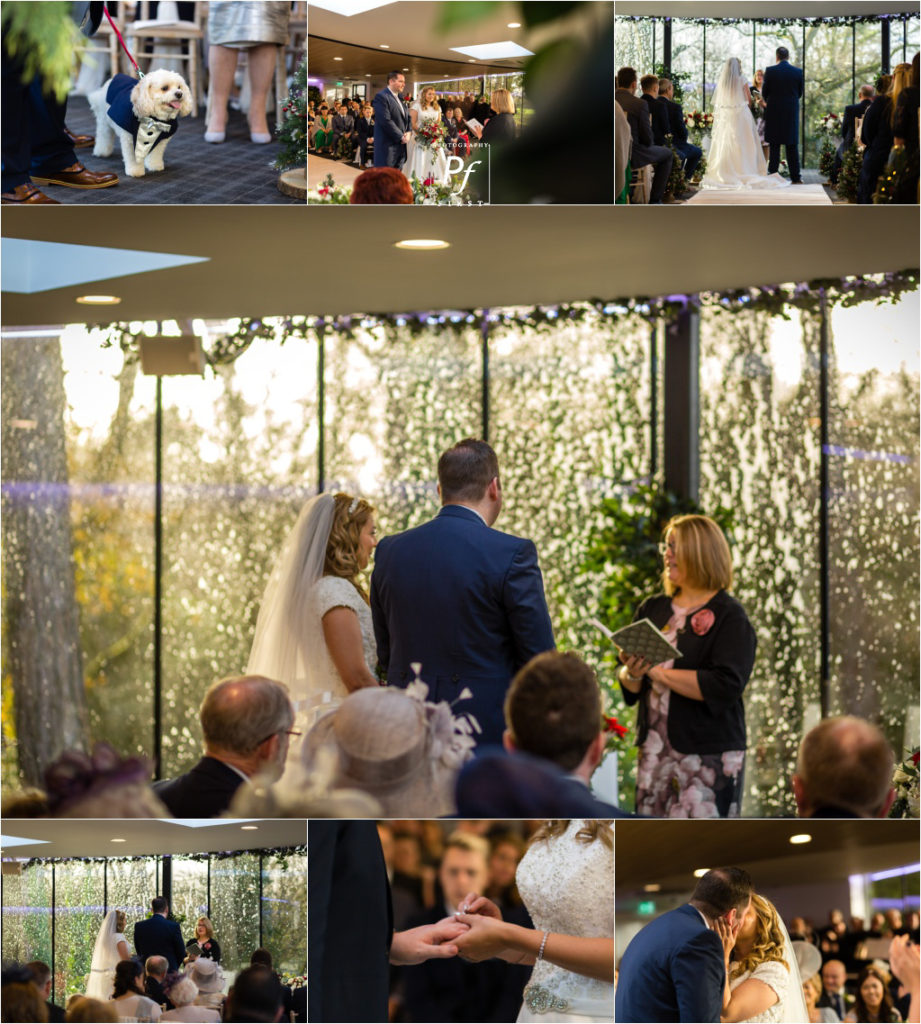 Group Photos at Fairyhill
After your wedding ceremony, signing your register and you walk back down the aisle, you'll be greeted with your welcome drinks. The staff would then usher your guests outside for the big group photo of all your wedding guests together. This is when I will be back up in the bridal suite, or the adjacent room, to get a wide shot of everyone at your wedding! We'll then move to the formal group photos.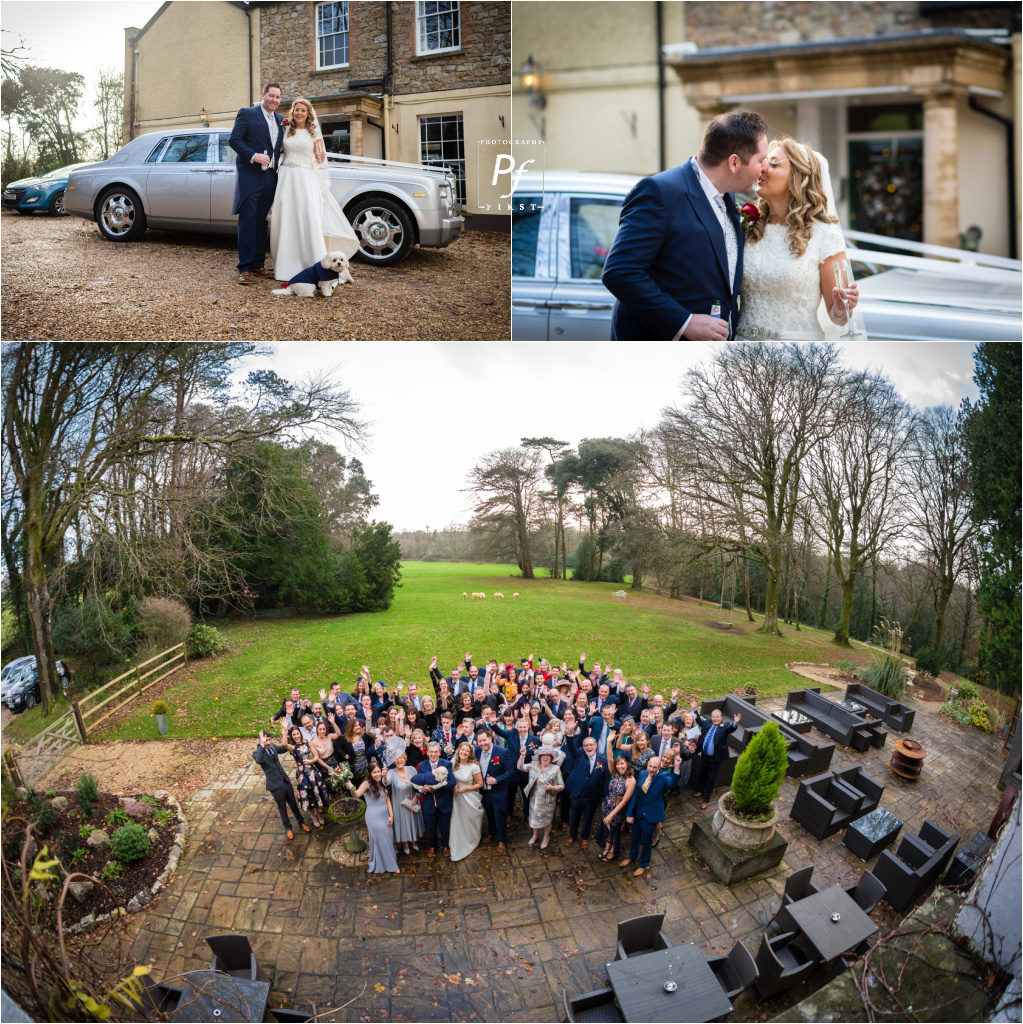 Wedding Photographer Fairyhill – Couple Photos
Once your group photos are all done, we'll take a walk around Fairyhill's grounds to get you some romantic and elegant wedding photos to remember the rest of your lives! We'll pop down to the quaint little bridge at the bottom for the classic Fairyhill wedding photo, then take a walk around spending around 20 minutes before you return back to meet your guests.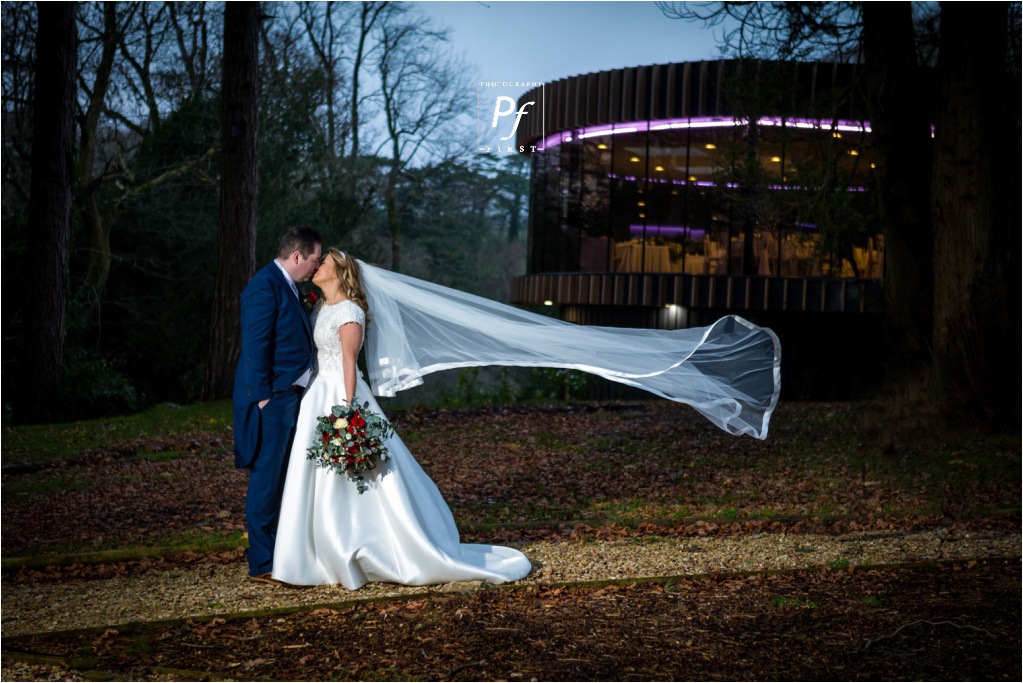 Wedding Breakfast at Fairyhill Gower
Whilst you and your wedding guests are enjoying drinks and canapes Fairyhill has to offer, I will be in the K Room photographing the room and all the little details you spend designing your centre pieces, table plans, place names, favours etc.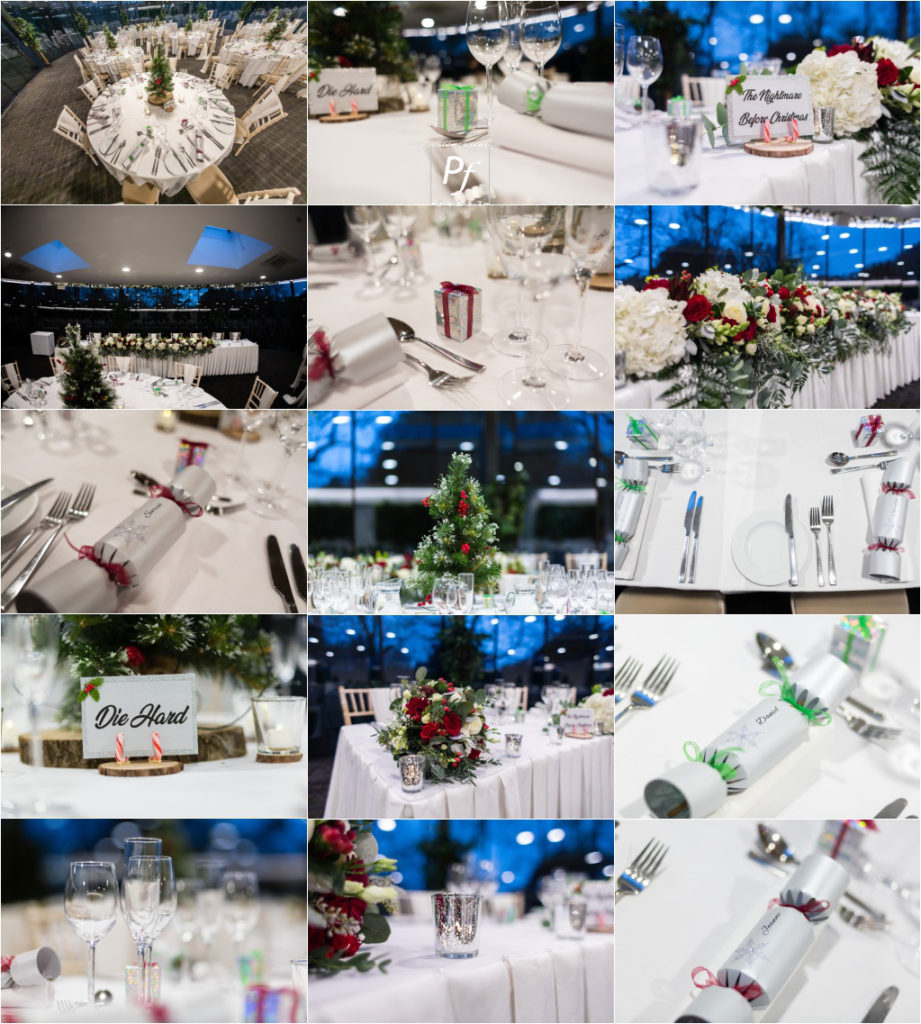 Speeches at Fairyhill
Traditionally, speeches are after the meal, but whether you want to have a tradional wedding format, it's totally up to you. But I'll be ready to photography your speeches and guests laughing at the Bestman's jokes! Whether you have a winter wedding, or a summer wedding, the photos of speeches will look great, so don't worry about the lighting, that's my job.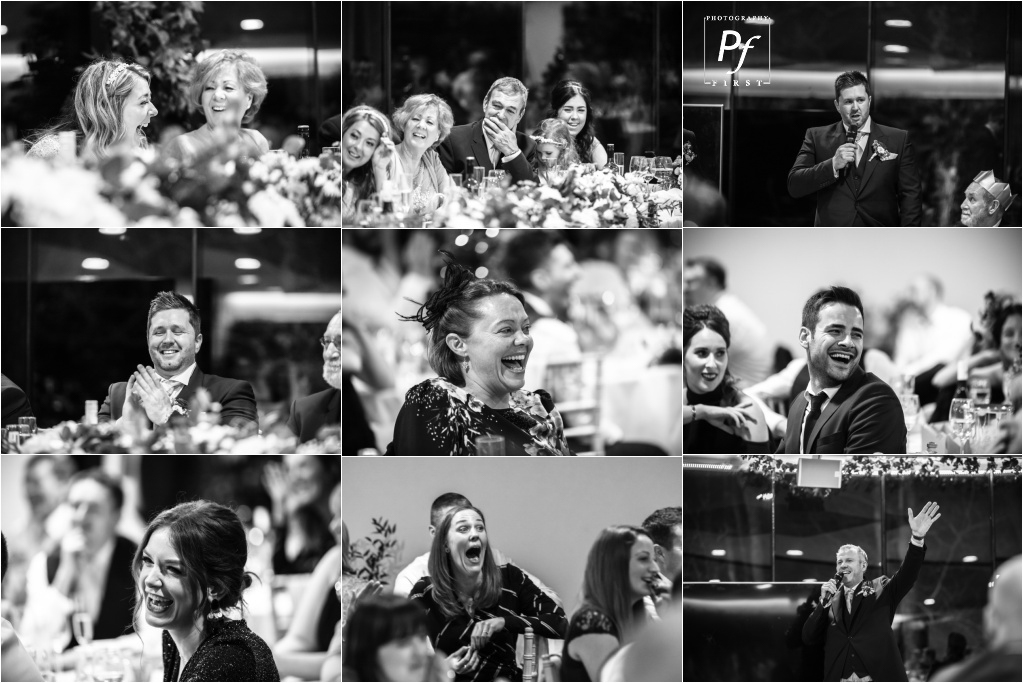 Sunset Photos at Fairyhill
I don't think I've had the opportunity to get a one of my trademark sunset photographs at Fairyhill. But if you're happy to leave the venue and go for a short drive, I would absolutely love to. I know a couple of places where we can go that's just around the corner, to get some stunning sunset photos for you to treasure forever.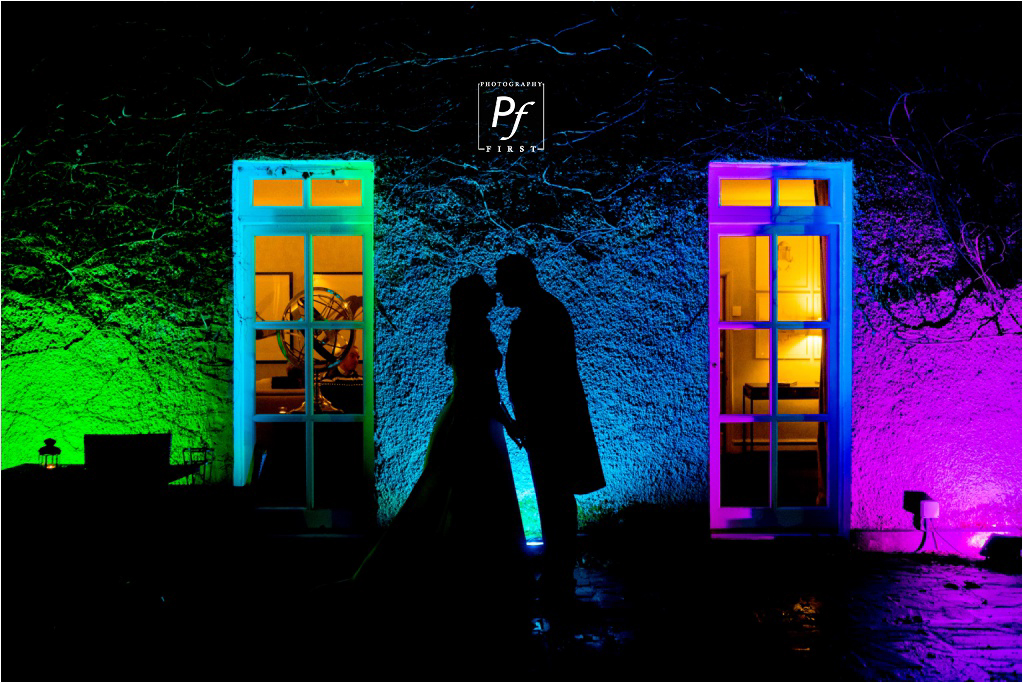 First Dance at Fairyhill
It's without a doubt your first dance will be held in the K Room, although before it was built, Jodie and Gareth's wedding party was held outside, the band had set up inside, but as the weather was so nice, no one was there to listen. So they packed up and set up outside. What a party, one of my favourite evening receptions!
Anyway, with your first dance on the light up dancefloor in front of the panoramic windows is just stunning. When it's dark outside, the windows reflect and act as a mirror, creating multiple versions of you both having your first dance. Simply stunning.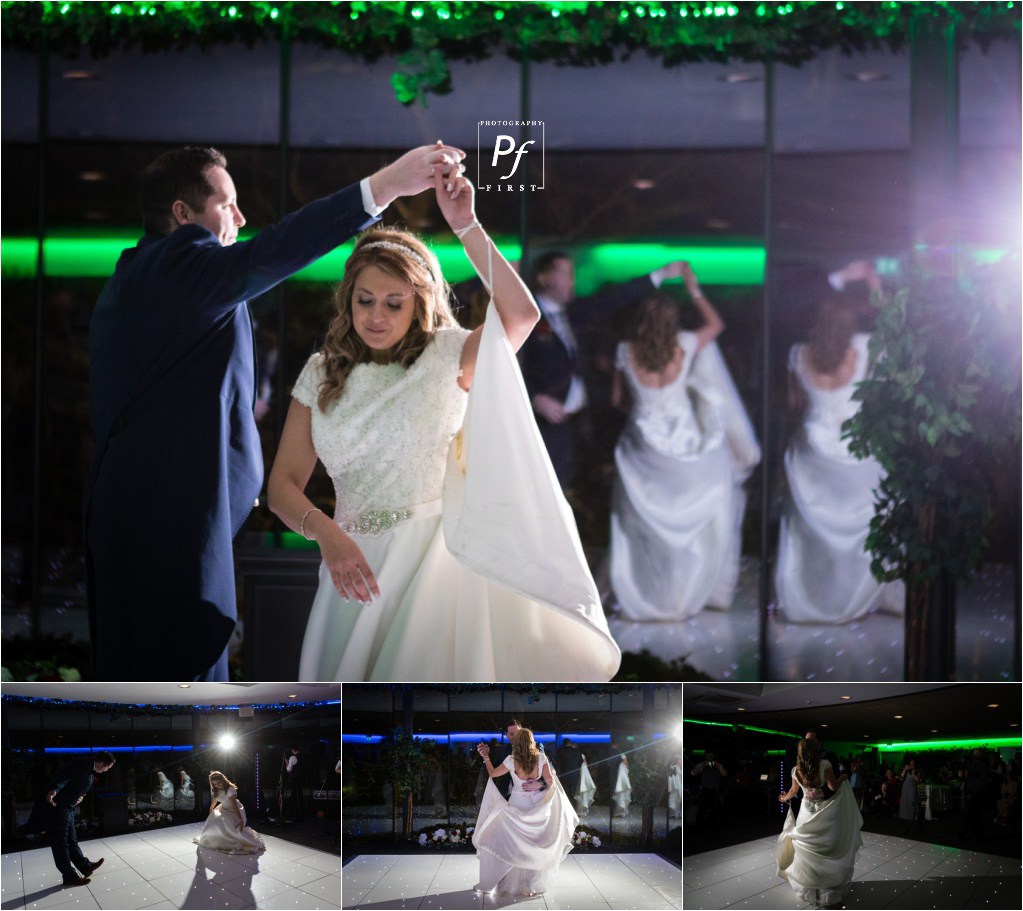 Fairyhill Wedding Photographer
So if you're looking to book your wedding at Fairyhill, it's certainly one of the venues that should be on top of your list to check out. Furthermore, if you need a Fairyhill wedding photographer, then make sure to contact me to check my availability.