Signature Wedding Films
For the past year, I've been working alongside Signature Wedding Films, almost weekly. So it only made sense to team up! That's right! I am now able to offer videography as part of your photography package.
With so many wedding videographers out there, it's difficult for you guys to sift through hours of videos and websites to find your perfect videographer. By having an add-on package to your photography, it will save you precious wedding planning time!
In the past, there's been a few videographers that like to take over, and I'm not able to get the photographs I'm after, whether it's due to time, or whether they're in the way. But that's totally fine, it's the way they work, and that is how they produce the wedding video's the couple are after.
Signature Wedding Films work exactly like me, they're very relaxed and laid back, not to mention unobtrusive. So if you would like to add videography to your wedding photography package, make sure to get in touch about our availabilty.
I'm really looking forward to working in association with Signature Wedding Films, but don't forget, although based in South Wales, we are available all around the UK to document your wedding day!
Wedding Videography South Wales
So what's included in your wedding videogoraphy south wales package?
Your wedding videographer will be with you from bridal preparations up until first dance.
Filming Your Wedding Day
We will turn up one hour before you put on your wedding dress, but don't worry, when we turn up, we'll be filming all the little details first, so that would include your shoes, dress, bouqet etc. we would then film in the background whilst you get your hair and makeup done.
Once you are all ready, we will get some classic portraits of you in your dress, for example, the back of your dress with beautiful window light shining through.
We would then head off to the ceremony to video you walking up the aisle, we would have two cameras set up to make sure we get all the best angles for you and your groom!
Once the wedding ceremony has been filmed and all over, it's time for the group photos and family portraits, so whilst you're getting your photography done, we will also film some of it as well as some candids of your guests enjoying themselves during their welcome drinks.
South Wales Wedding Videography
After all the groups and formal portraits are done, we will spend around 20 minutes with you to film you and newlyweds around the venue. If you would like to go to certain locations to film your portraits, then we're more than happy to, no extra charge. But be sure to allow enough time, as we don't want to be turning up at the wedding breakfast with your food all cold!
Filming the Speeches
So once you and your guests are ready for speeches, we would have already set up cameras and microphones to film your speeches. We usually get a heads up from the wedding planner when the speeches are going ahead, so we would have had plenty of time to set everything up.
Sunset Videos
When the speeches are over, there is usually downtime between, by this time, the light would have changed, so if you guys are up for it, we'll spend around 15 minutes for some more filming, this is when we usually get some dramatic light from the sky, unless you're wedding is in the summer, but the light would be lower and will be completely different from the afternoon.
First Dance
After filming you guys after the speeches, we will set up cameras ready for your first dance, so between those times, your guests would probably welcome a break from us video-ing and photographing them. After your first dance, we plan to stay for at least one song, to capture your guests dancing the night away.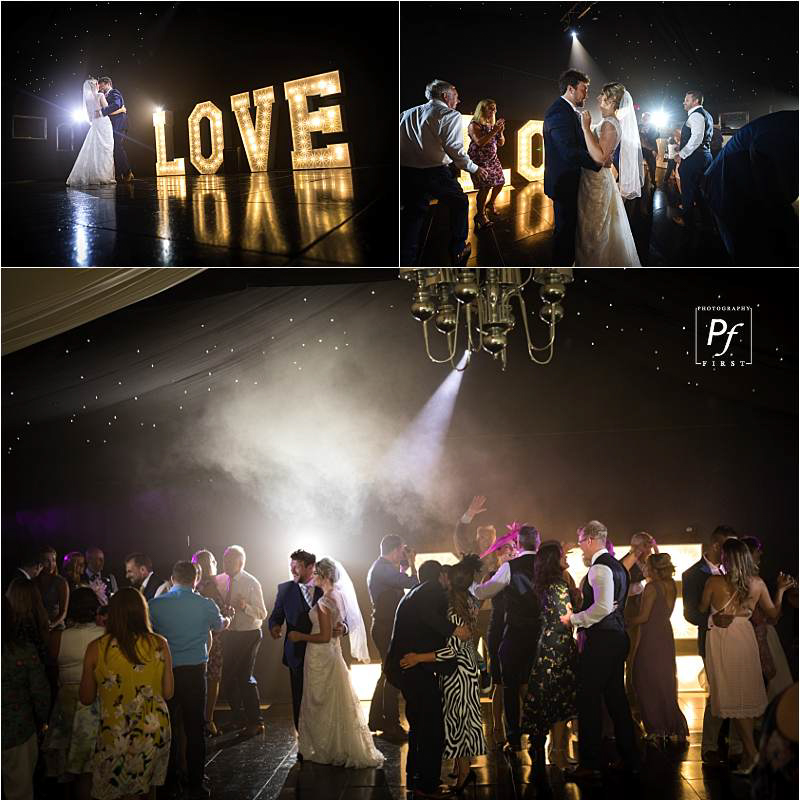 Wedding Filming at Night
Just before we leave, if your wedding is in the summer, we will hopefully get a sunset photo, this will be a nice finish to your wedding film. If you're not getting married in the summer, hopefully your wedding venue will be lit up, and we will still be able to get some night time video to finish your wedding film off.