Are you planning your wedding day? You've probably scoured the Internet already in search for checklists etc. So I'll try and give you some advice from a photographers point of view, well maybe not all photographers, but definitely my take on things.
Look at the camera or not?
With my approach to wedding photography, I ask everyone not to look at the camera, and just pretend I'm not there. It's not easy, as it's not something you're used to, but you'll forget about me before you know it!
Sometimes, I'll ask you to look at the camera.
Bridal Preparations
When I turn up, I usually photograph all the details first. So if you have everything you're going to wear on the day to one side, I'll be able to get on with things straight away. Chances are, you'll be busy having your hair or make up done, so won't want to be getting or searching things for me.
Don't worry about placing it all ready for a photograph, I'll find somewhere suitable, so that's one thing off your mind.
Buttoning/lacing up your dress
The staff at your bridal shop would have probably already told you to have a trial run so you and your bridesmaids or mum would have experience in buttoning or lacing your dress up. From my experience, a lot of brides don't do this, and can often stress brides or make them late.
Also, if you have buttons for your dress, bring a crochet hook along to speed things up, with your bridesmaids nails all manicured, it's not as easy to button up!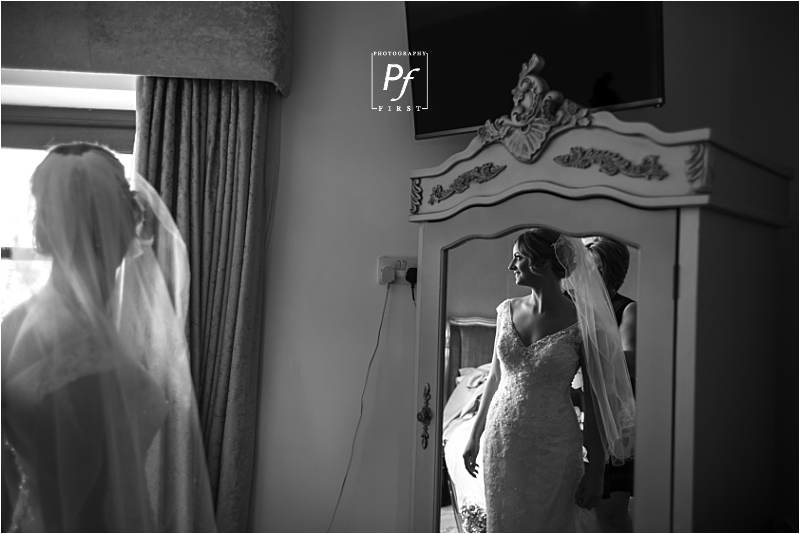 Speeches before or after the meal?
Personally, I think speeches after the meal is best. As a lot of your guests would be starving as they wouldn't have eaten since the morning. Especially if there are children at the wedding.
Another reason, I think it's a nice finish to the wedding breakfast. Food, done, speeches done, and the last speaker can announce the turnaround of the room, or cutting of the cake.
If speeches were before the meal, then the nervous speakers can enjoy their meal. But if speeches go on for a little too long, the last speaker won't pay as much attention compared to when they have a satisfied belly! I've seen some guests sneak off towards the end too.
Once the speeches are done, and the wedding breakfast has been eaten, people tend not to know what to do, and doesn't seem to finish as nicely as when the speeches are after the meal.
Sparklers
We all love sparklers, it's all good fun waving them about making patterns etc. At the risk of sounding boring, I have to me to mention health and safety!
A fellow wedding photographer friend of mine set up two lines for sparklers, but as sparklers are always at night, you can imagine how intoxicated guests already are… Well, her hair got syringed! Luckily, it wasn't too much of it, but can you imagine if guests had done it to the bride?! OK, fair enough, hair grows.. But I've heard some burning brides dresses! Ouch!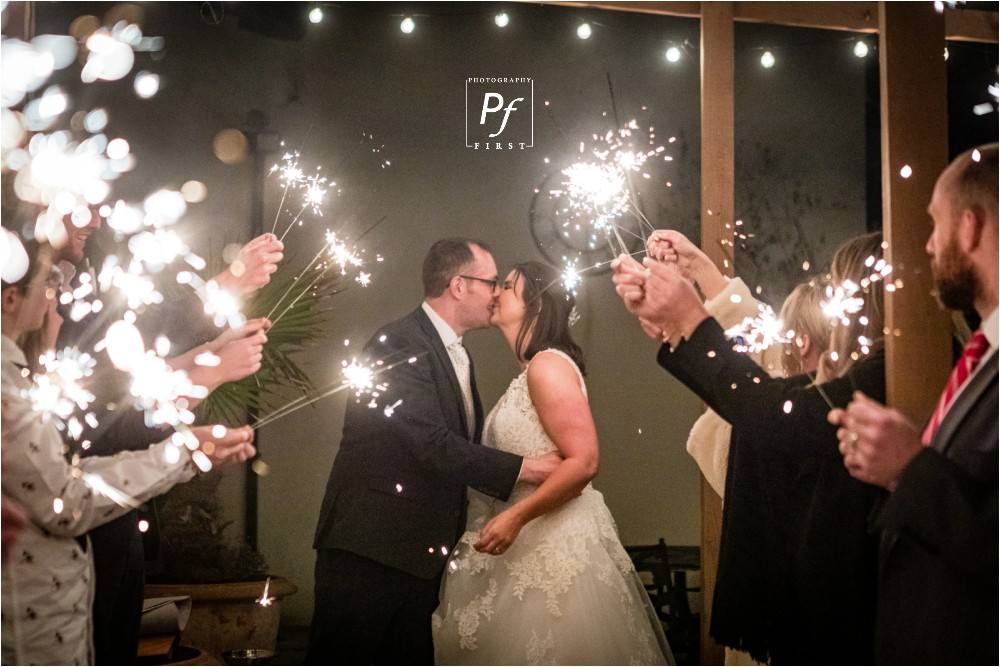 The solution?
I suggest having the sparklers not just before it gets dark, so that you have the dark blue sky. It makes for prettier photos, and guests won't be as drunk as they would when the sky is pitch black.
Fireworks
Although fireworks are designed for night time, as with sparklers, I prefer to photograph them. Just before it gets dark, just after the sun has gone down, that way, you get that nice deep blue sky, rather than just a black sky.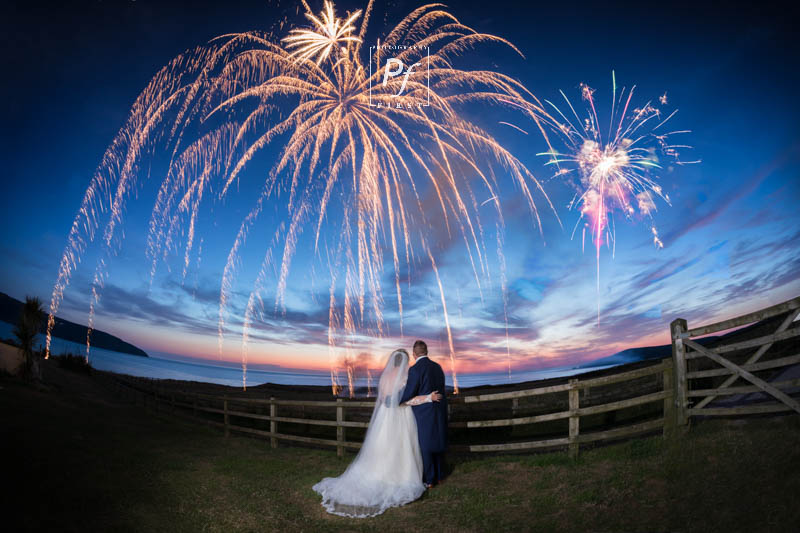 Rain
They say it's good luck that it rains on your wedding day, so if it happens to rain, there's nothing anyone can do about the weather anyway, so why not just embrace it?
If you don't mind getting wet, bring some wellies with you, as I'd happily go out in the rain to get photos for you guys.
With group photos, there's always somewhere inside where I can get the formal photos for you and your family, I always bring my studio lights with me, so if the light isn't up to my standards, I'll set it all up ready before the guests line up for their formal photos.
You probably would have seen my umbrella and rain photos already, but if you haven't, at night, I can get very creative and produce some modern and romantic photos in the rain for you guys!
Winter
I find a lot of wedding photographers don't like winter weddings. These are mainly natural light photographers, they call themselves natural light photographers because they don't like to use studio lights. Don't get me wrong though, there are some amazing natural light photographers out there that can still use flash, maybe not as creatively, that's all. It's all down to personal taste, I'm sure there are some that find my photography tasteless, but that's ok, as we all have a unique perspective on beauty.
Anyway, winter weddings.. I love winter weddings, as I tend to get more creative when the sun is down and the light is low. I love using my own lights to creative ultra modern and romantic wedding photos to wow your guests. I love finding all the quirky lit places inside of wedding venues and get some amazing out of it for you guys!
Camera Shy
I find a majority of my clients to be camera shy, and don't like looking at themselves in photos. But when they receive their wedding photos from me, they're always blown away, really shocked that they love their photos! Have a read of my reviews and see for yourself.
My approach is very relaxed and laid back, I've been told I have a good sense of hunour, so I tend to crack my silly "Dad Jokes" to get you guys to smile and relax a little more. I also start with getting you guys walking off in a distance, and use my longest zoom lens, so that you're far away from the camera. Get you guys to have a little cwtch, then work from there.
Engagement Shoot
Another way to combat your shyness towards the camera and also to built rapport. Is an engagement shoot, they're the best way to get you used to the camera, and you'll know exactly what I'm thinking when it comes to your wedding day. So it will make it that much easier for you on the day, some couples would then use the photos for a guestbook, displaying photos at their wedding or for invitation and save the date cards.
How far in advance should you book your wedding photographer?
There's no really right or wrong answer here, but if you have a certain wedding photographer you're very keen on, then you really should get in touch ASAP. I get booked up 2-3 years in advance. But also get booked up month in advance!
I often get last minute enquiries, but usually have to turn them away, as I'm already booked up on their wedding day.
Still Looking for a wedding photographer?
If you're still looking for a photographer, and you like the sound of me and my approach to wedding photography, get in touch soon to check my aavailability.
---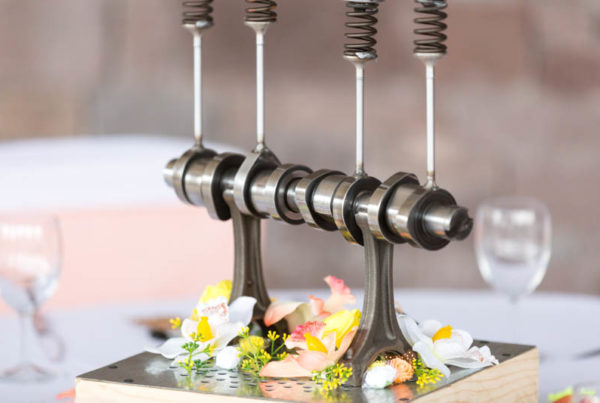 Following on from yesterdays post on wedding shoes, I would like to share with you some centre pieces from Joanne and Simon's Wedding at Craig Y Nos Castle a couple…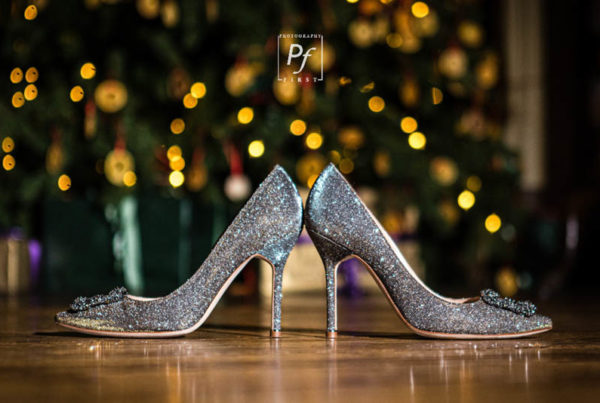 Wedding Shoes There are so many things to think of when planning your wedding, and shoes are one of the million things! If you follow my work, you probably would…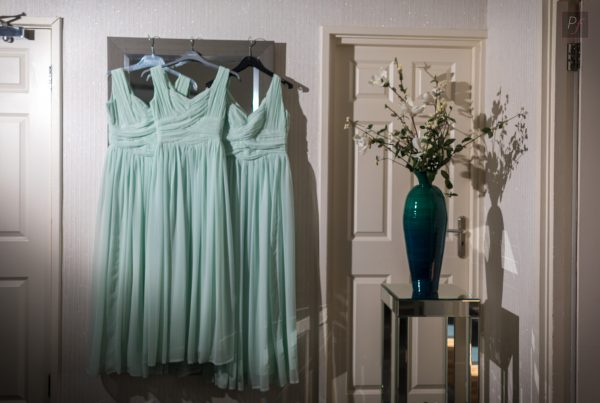 Wedding Ideas Bridesmaids Dresses Continuing from my other posts on wedding ideas, here's a selection of Bridemaids dresses I photographed across South Wales, Cheltenham, Gloucestershire, Cotswolds and Chippenham throughout 2017.…