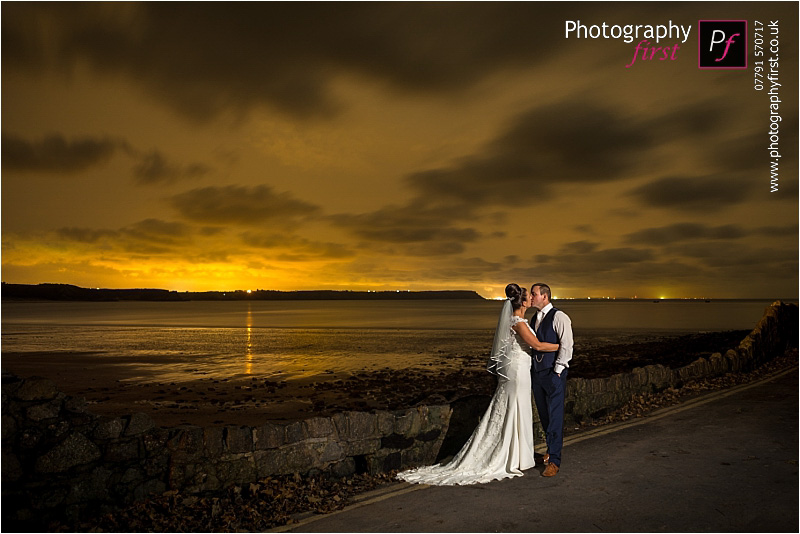 Kelly and Richard's Wedding
Oxwich Bay Hotel, Gower, Swansea
Wedding Supplier List
Hair Stylist | Sarah Marie Wedding Hair Specialist
Sarah Lewis Hughes
Video | First Class Films
Singer | Matt Cook
Band | Somethings Swansea
Casinos | Swansea queen of hearts fun casino
Venue | Oxwich Bay Hotel
As a South Wales wedding photographer it was a pleasure to be documenting Kelly and Rich's wedding at the Oxwich Bay Hotel at the Gower in South Wales.
Halloween
Kelly and Rich decided to get married on 31st October, on Halloween, I was prepared to dress up haha, but they opted not to have fancy dress at their wedding.  But they did have some fantastic pumpkin cetrepieces, so glittery, I had to use one to get a photo of the wedding rings!
Bridal Prep
Kelly got ready at Oxwich Bay Hotel, at their new pods in the Secret Garden.  Turning up, I could see how chilled out and relaxed the bride was, and with Conner at First Class Films being so calm and laid back too, I knew it was going to be an awesome day!
Ceremony
Before the ceremony, Rich got his two boys practising waking up the aisle a few times, so cute!  I'm so glad I was there to capture the moment!  That's one of the perks of getting ready at the venue, and if not, that's no problem, you can always get a second photographer involved 🙂
Ceremony was lovely, with a bit of the groom's personality thrown in to make everyone laugh too.
Groups
Lately, all my group shots at weddings have been so easy!  So a big thank you goes out to all the guests for being so good when they were asked for the family formals, in the past, I was a while trying to get all the guests all together, whether it be them chatting, getting drinks, toilet, or even leaving to check-in to their room! lol.
Reception
Wow, what can I say?  The marquee was beautifully decorated, I loved all the lanterns hanging from the ceiling, down to the glittery pumpkins and scuba diving top pieces on the cake.  As the bestman Jamie would say, it was so beautiful, even the cake was in tiers!
Portraits
After the groups, we took a walk back over to the Secret Garden's for some photos, followed by a lovely walk over to the beach, thanks for being so patient guys, I know how we all love getting back to a party 😀
Dance Floor
After the wedding breakfast and speeches, the dance floor was filling up before we knew it, Matt Cook really know how to get all the guests up and dancing!  Personally, I loved the music too, all my era, but he'd put his own style into it.  I think he should have been a comedian too! Funny guy, definitely recommended!
Towards the end of the night, a dance-off seemed to happen naturally too, the video that First Class Films recorded must be so fun to watch!
Enjoy the photos!