The Format of a wedding is usually very similar in most situations, when photographing weddings, whether it's in Llanelli or around South Wales, I find a lot of couples are not sure what is happening next. Whether it's a traditional wedding, or not, there is usually some kind of format.
There are plenty of websites that are able to give you detailed information on how a traditional wedding should be planned out, along with other weddings, such as Jewish, Chinese, Asian weddings etc.
But I'd like to talk about the general Western weddings we mostly have here in South Wales.
After planning your wedding, there's usually some parts that you have missed out, and more often or not, couples turn to me asking what happens next.
We'll check out the format of a wedding from the bride's point of view, followed by the grooms point of view, and finally, from the couple together.
Bride's Point of View
Bridal Preparations
During bridal preparations, there's sometimes uncertainty on what should be happening. Of course, you will be getting your hair and makeup done, but it's the in-between. I see some bridesmaids bored and just sitting around on their phone or watching TV. My advice as a photographer, is to turn off all screens, play some music and just have enjoy and have a laugh with your friends and family.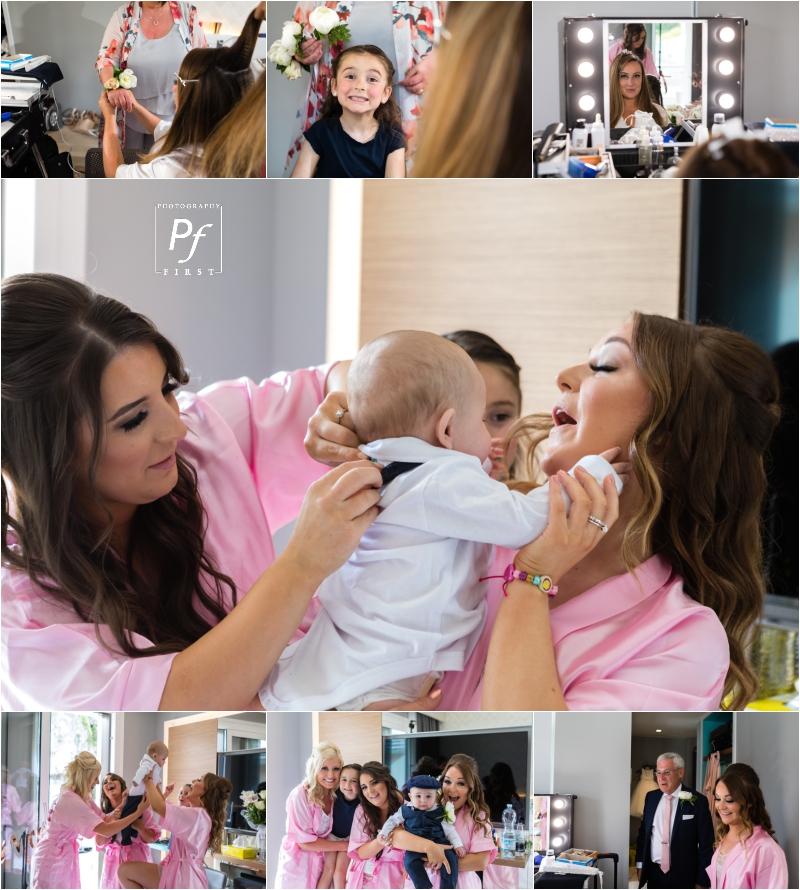 Talking to the Registrar
Don't forget, after you're all dressed and have had sometime with your photographer, you also need to speak to the registrar privately. This is where they ask you a few questions to make sure you are who you say you are.
Format of a Wedding – Groom's Point of View
Groom Preparations
As with the bridal preparations, when I walk into the hotel room or home, they're sometimes sitting around watching TV or on their phones. Try and get everyone to turn their screens off, put some music on, chill out and have a laugh! Get all the boys together getting dressed and get the banter going!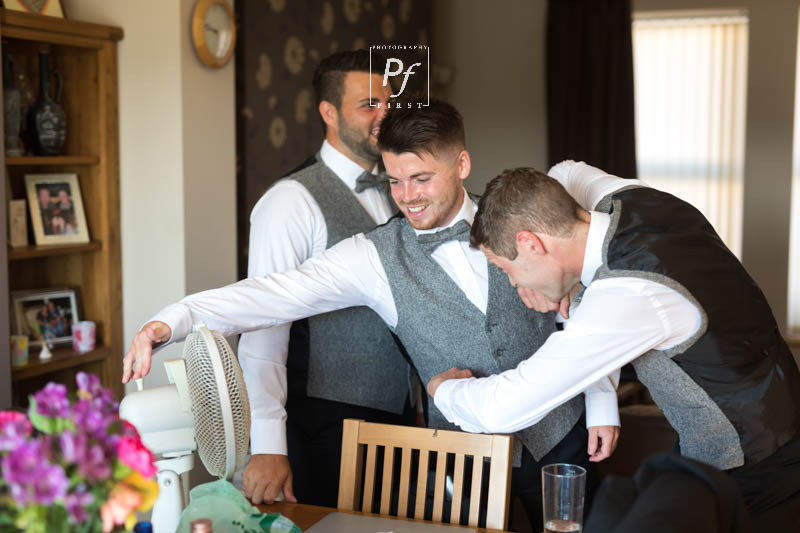 Before the Ceremony
Once you're all dressed, the majority of Groomsmen head off the the bar, guests will arrive and generally socialise. The registrar will look for the Groom to speak with privately, just to ask general questions to make sure you are who you say you are too.
Once it's almost time for the ceremony, make sure to wait at the top of the aisle ready for your Bride to walk down!
Personally, I was told not to turn around by the Registrar, I was gutted, as I didn't see my wife until she was beside me. I really would have liked to watch her walk up the aisle. So my advice to you is, do what you want during this time, otherwise you'll regret it.
Bride and Groom's Point of View
Format of a Wedding
Now we look at the format of a wedding from the bride and groom's point of view.
During the Ceremony
I totally understand nerves are setting in at this point, so why not hold your loved ones hands for love and support? It breaks my heart at time when I see couples a metre apart, and they feel like they're not allowed to comfort their partner.
First Kiss
Civil ceremonies, the Registrar will let you know when the Groom may kiss his Bride. But very often, during Church ceremonies, this does NOT happen! they just carry on with the ceremony, and onto the signing of the register.
As a photographer, I am always looking out for the first kiss, or any kiss for that matter. So when during the ceremony, there comes a point where you're expecting the Vicar or Priest to announce the first kiss, but they never do! If you want to kiss your wife, then kiss your wife!! I'll be ready to photograph it!
Having said thay, some Churches don't allow photography at all, so make sure to check with your Church if you would like photographs of the ceremony.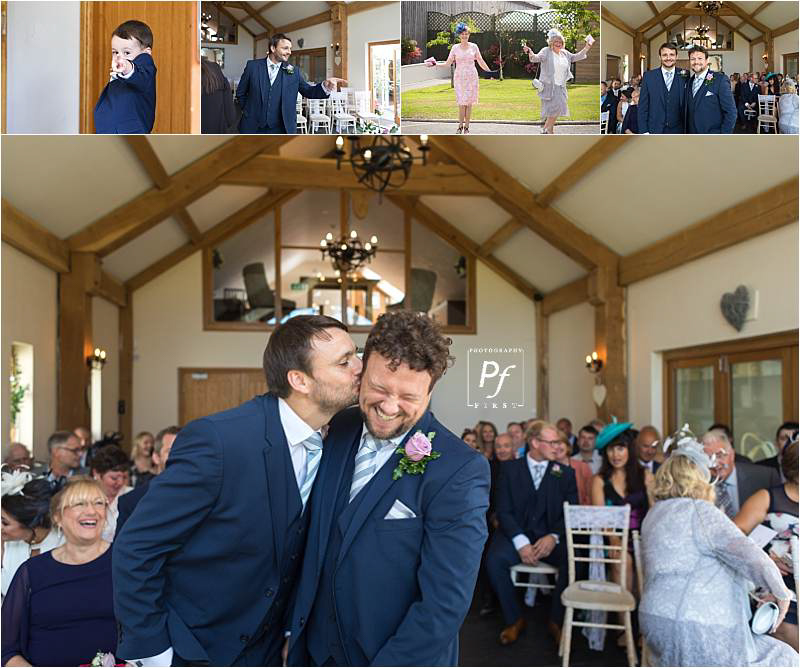 Weddings Overseas – First Kiss
My only wedding overseas was in Malcesine, Lake Garda, Italy, so this may apply to the region only, rather than the whole of Italy, or even Europe. But the first kiss happened a lot sooner that anticipated, but as mentioned, I'm always ready, so I was able to photograph the first kiss in plenty of time. So more of a note for your guests if they're looking to photograph the first kiss.
Format of a Wedding – After the Ceremony
Civil Ceremony
Once the ceremony is over, and you've walked down the aisle (or would that be up?), with civil ceremonies, the hotel staff or wedding planner would usually offer you your welcome drinks. Some hotels have staff nowhere to be seen, in which case, there's usually a room where all the welcome drinks are laid out, or you could wait outside the ceremony room where all your guests can congratulate you both.
I would wait for all the guests to come out, then arrange a confetti line for you both to walk through. Then straight onto the big group photo of all your wedding guests.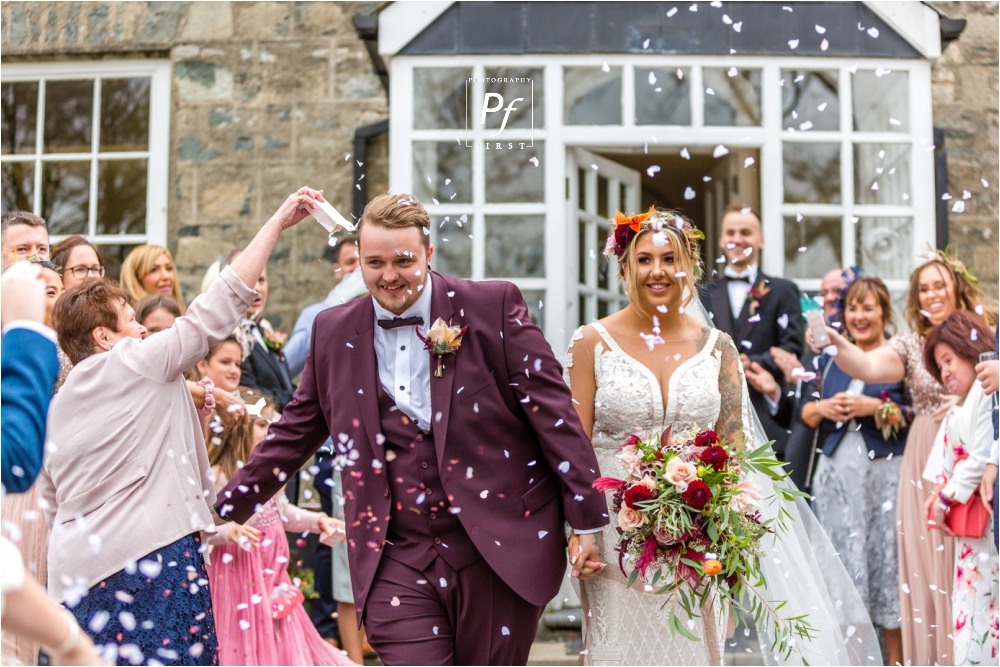 Church Weddings
With church weddings, once you leave the church, just wait outside for your guests to come out to congraulate you both.
I usually wait until all the guests have come out of there ceremony, then arrange a confetti line, then we'll gete the group photograph of everyone in the wedding.
Format of a Wedding – After Speeches
This is another one of the awkward times where guests are looking around not knowing what to do next. If your wedding planner is on the ball, they would announce cutting of the cake, or get the last speaker of the speeches to announce it.
I've been to some hotels, where there are no staff, so once the last speaker has said their speech, everyone just sits around like lost little lambs!
Get the last speaker to announce the cutting of the cake, it can be a mock cut if you prefer. Once the photographs have been taken and the cake has been cut, a majority of venues would ask all guests to leave the room, so that it can be turned around ready for the evening reception and first dance.
I will also ask you both to pop out for photos for around 15 minutes.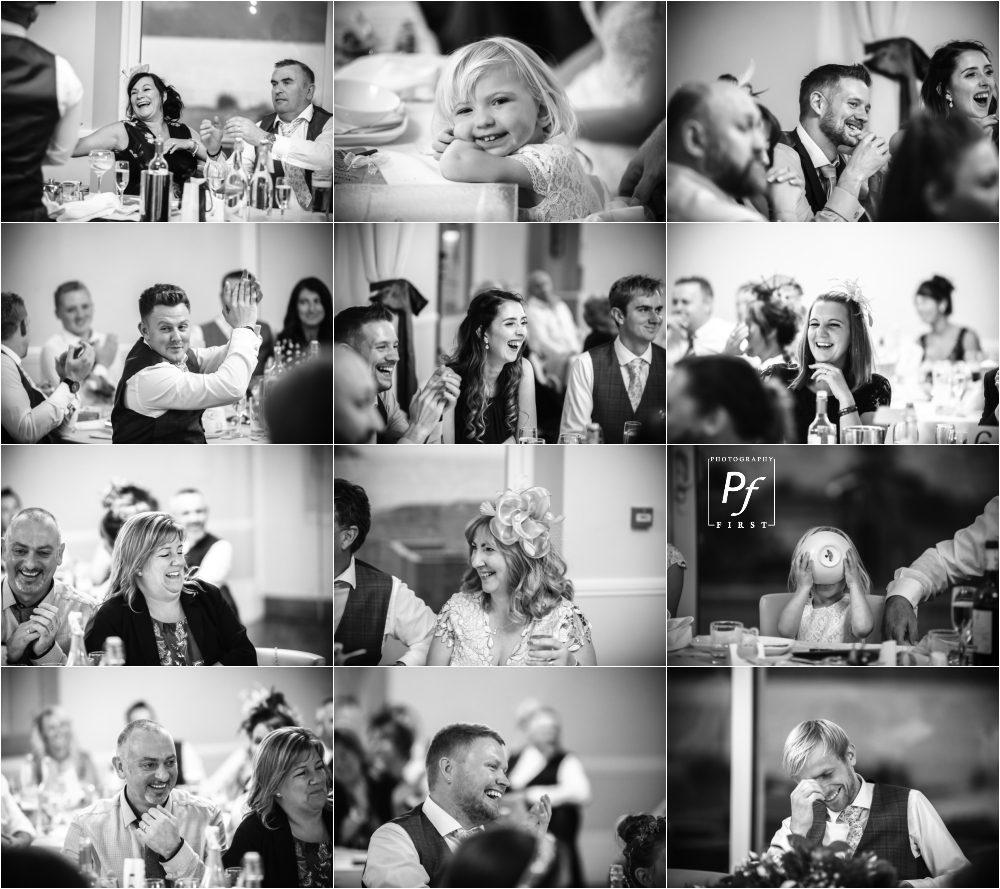 Before First Dance
Again, if your wedding planner is on the ball, they would liase with the DJ or wedding band and organise it all for you both, so all you do is enjoy your evening reception until you're called up for the first dance.
However, more often than not, there's a delay, but not because people are running late, it's because of miscommunication. When speaking to the DJ or band, they almost always tell me that they don't know what time the first dance is, or that they're waiting on the couple to tell them when they'd like their first dance. But when I speak to the couple, they're expecting the DJ or band to tell them when the first dance is!
So my advice is to organise a time they would like their first dance, and tell their DJ or band to make the announcement at the arranged time for their first dance. Having said that, sometimes the speeches run over, meaning the arranged time for the first dance can't always happen at the pre arranged time. So once you're both settled after speeches, cutting of the cake and photographs, speak to the DJ or wedding band, and arrange for a time for them to make the announcement.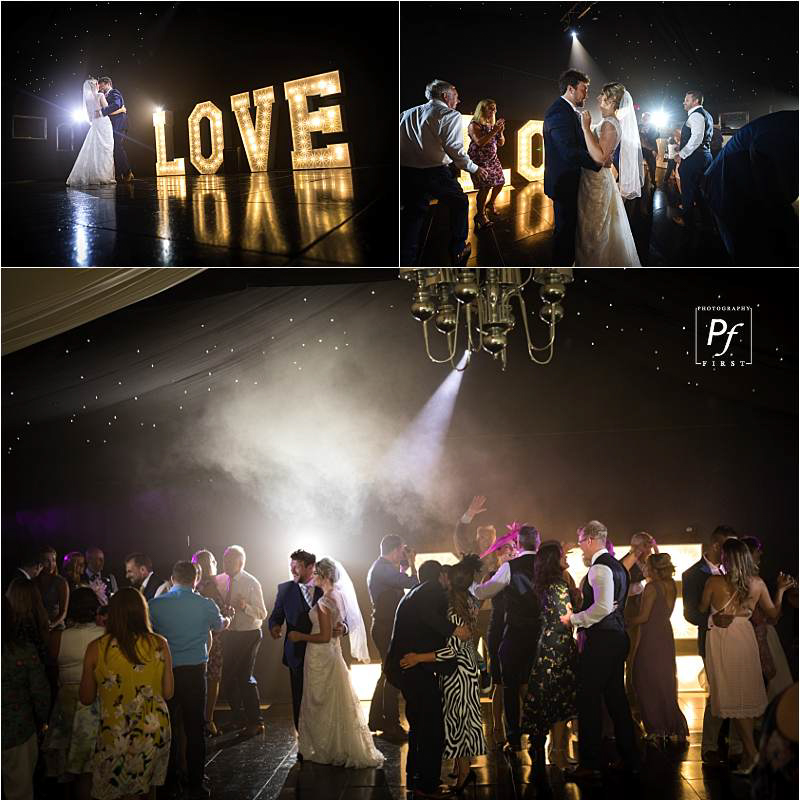 Format of a Wedding – Now Enjoy!
So that's basically the jist of a format of a wedding, it's just the first dance, and once that is done, you're all set to party and enjoy!
Social Media
Once your wedding day is over, there still your wedding photographs to look forward to, so check out my social media to get updated, I would usually post a link on facebook so you can have a quick sneak peak of your wedding photos very soon after your wedding!