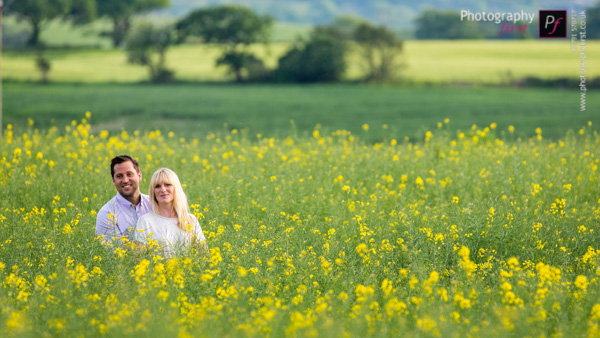 I've been shooting wedding and portraits for around 4 years now, at the start, I've always browsed other wedding photographer's around the world's work, and weddings in rapeseed fields have always come up. I've always been inspired by other photographers, and love to but my own twist and make my images different and unique to every other wedding photographers work that's out there.
S
o one Sunday afternoon, I was taking my two little boys on a day trip to
Margam Country Park
, and as the youngest had only just fell asleep, I just kept on driving past
Margam Country Park
so that he could have an extra 10 minutes sleep. And I happened to pass this huge field of yellow, a
rapeseed field
!! Parked up right next to it, and took the elder one to see this field. I knew instantly I needed a
couple
to
photograph
there!! Of course, I took a selfie with my boy at the same time 🙂
Colette and Gaz had not long booked their wedding, and I suggested this as a location for their engagement shoot, they were keen, I was happy!
These guys were so easy to get along with, it's unreal, they were awesome on the day and so natural, I'm sure if this was a cartoon world, I'd see love hearts floating above them! They weren't camera shy at all, and really were themselves on the day, and it made the photoshoot so much easier and quicker, I was done before I knew it!
What's more, their photos got featured on Cwtch The Bride, yay!
Here's their engagement story.. love!

Christmas Day with the family is always one to remember, but 2015 was a little extra special. After the last roast potato was polished off, the games had been played and the wine had be drunk, our stuffed diners left to their respective houses.

Whilst waving them goodbye Gareth asked if I wanted my last Christmas present. As he rummaged around in the Christmas tree, I was a million miles away thinking about our travels to Wales the following day to see his family for our second Christmas. He then held out a (badly) wrapped Christmas present. I tore at the package, trying to think what it could be, until I finally got to the jewel inside – A beautiful diamond ring.

I was shocked. I looked at Gaz, who had a tear in his eye. I asked if this was a 'ring ring' to which he nodded. I pointed to the floor and said 'let's do this properly then' so Gareth got down on one knee and asked me for my hand in marriage. Shocked, stunned and amazed, I asked jokingly if he had asked my mum's permission. No? After a quick call to one excited mother-of-the-bride-to-be, it was a resounding yes from me! The family turned the car around and were back in no time to celebrate with us. The champagne, hugs and excitement flowed. It truly was a Christmas to remember.