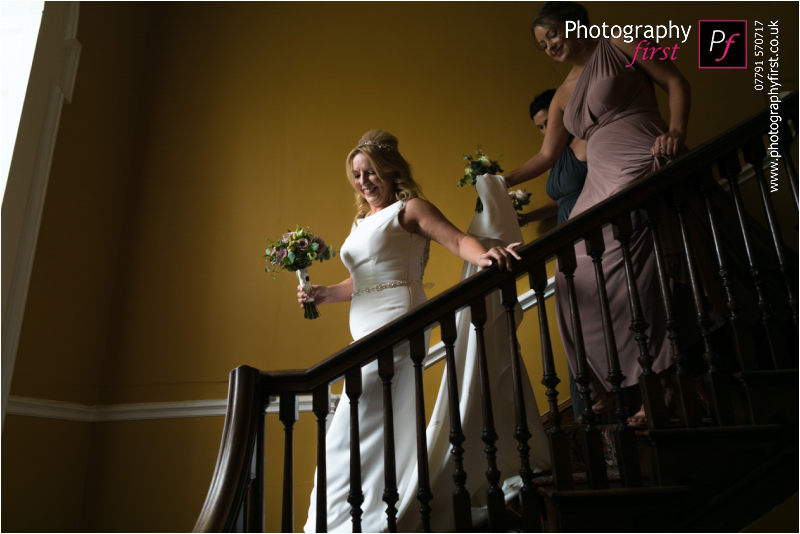 Deb and Alan's Wedding
Peterstone Court, Brecon
Hair | The Hair Lounge Merthyr Tydfil
MUA | Jessica McAleese-Savage
Venue |Peterstone Court
Venue Stylist |  Mairwen Mackintosh Wedding Venue Stylist
Misty Morning
I do love going to Brecon for a wedding! Luckily for me, the bridal preparations were also in Brecon. I always enjoy the drive up, but it was pretty foggy, so I couldn't enjoy the view.  Arriving at the Bride's house, I was welcomed with an amazing view of Brecon and it's hills, so it would have been rude not to take a photo!  See below!
With all the bridesmaids getting ready here too, it had great atmosphere, and also gave us the opportunity to hear Debs on the Radio!
The Dress
The plan was to get ready at home, and get dressed at Peterstone Court, so it was all put away until we got to the venue.  So I photographed all the details after the bridal preparations photos, a new one for me.  And since I was at the venue, I thought I'd get a few of the groom preparing too, even caught him checking his watch to make sure things ran on time (inside joke on whether it was the bride or the groom that was late :))
Ceremony
Although the ceremony was running a little late, it was nothing compared to a wedding I once photographed, (the ceremony was the same time as a football match, and the bride and to get through all the football traffic!) the ceremony was beautiful and emotional, the room, decorated by Mairwen Mackintosh Wedding Venue Stylist as usual, she made the room absolutely stunning!
Bride and Groom Portraits
After the group shots on the decking and pool area, we took the opportunity to go for photos around the venue, and before we knew it, it was time for the wedding breakfast!  But it's not chill out time for me now, as I've decided to put on a slideshow of the day for the newlyweds and their guests.  So it was off to edit a selection of photos to display on the night.
Speeches then Sunset
I must say, the speeches were fantastic, very funny and also emotional, I had to hold back the tears at one point – shhhhh!  After the speeches, the sun was setting, so it was time to go out for photos again, not too long this time, as I'm always conscious that the bride and groom would rather be drinking with their guests!
First Dance
The rest of the night went in flash after the slideshow and first dance, I can't wait to design their wedding album!
I decided to test out a little wedding videography whilst I had some spare time, here's what I came up with.