Oldwalls Wedding Photogtapher
Oldwalls Wedding Photographer – So you're getting married at Oldwalls in Gower? Read on to find out my views as a wedding photographer in South Wales about this luxury wedding venue in South Wales.
Preparations at Oldwalls
Whether it's the Bride or the Groom getting ready at Oldwalls, they have plenty of options to get ready at. There's rooms at the venue itself, meaning it's just seconds walk to the ceremony. Photographers often use the room up the top for group photos too.
They also have cottages nearby too, just a few minutes frive from Oldwalls. Ideal if you have a large bridel party and would like to get ready together, and more importantly, party the night before!
Oldwalls Wedding Photographer
Ceremony at Oldwalls' Oakroom
If you're having a civil ceremony, then you'll be having it in the Oakroom, you'll know why it's called the Oakroom as soon as you walk in. With the stunning Oak beams supporting the room, and floor to ceiling windows lighiting up the room, it's just stunning. As a photographer, that huge window casts beautiful soft light over the couple, making stunning photos for your wedding!
Group Photos at Oldwalls
The staff at Oldwalls are very organised, once you walk out of the Oakroom after your ceremony, you'll be having your welcome drinks upstairs in privacy, spending some alone time as newlyweds!
While all that is happening, your guests and I will be getting ready for a confetti line for you to walk out, we'll then move straight onto the group photos whilst all the guests are present. I go more into details about group photos and how I photograph your wedding day in another post if you'd like to know more.
Oldwalls Wedding Photographer
Oldwalls offers a gorgeous jetty around the back overseeing a private lake, and some greenery round the back too. But if you'd like more, there's plenty of locations nearby. There's Woebly Castle, Llangennith Beach, Wormshead and more!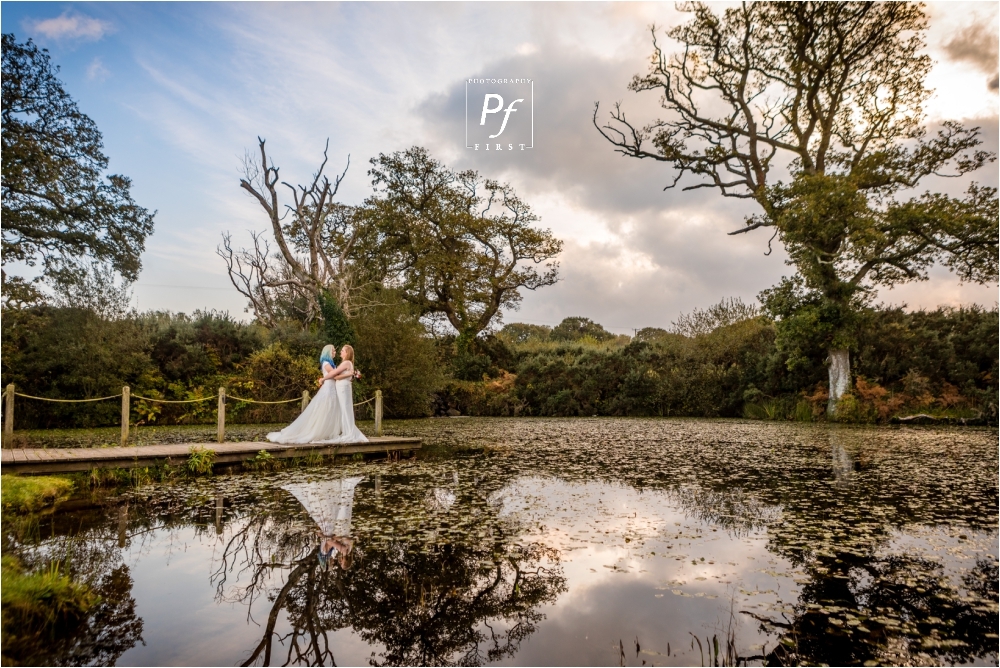 Reception at Oldwalls Gower
Reception at Oldwalls is held in the marquee, with the dedicated dancefloor at one end and lights that create a romantic mood for photos.
What happens when it rains at Oldwalls?
My couples have been fortunate enough to have their wedding on dry weather only at Oldwalls. But if it was to rain, then group photos can be done in the Oakroom after the ceremony. The staff would clear out all the charis from the ceremony so that there's plenty of room to photograph the whole wedding party.
As with couple portraits, my style uses a lot of off-camera flash, meaning I bring along my portable studio lights, to get those creative, modern and elegant photos you see in my wedding portfolio.
At night, if it's raining, it would be rude not to get my signature rain shot you see on my homepage – wedding photographer South Wales!
Visit Oldwalls Website
Oldwalls Wedding Photogtapher Oldwalls Wedding Photographer - So you're getting married at Oldwalls in Gower? Read on to find out my views as a wedding photographer in South Wales about…