King Arthur Hotel Wedding Photographer
Are you looking for a King Arthur Hotel wedding photographer? Here's a little write up about my wonderful expereince here at the Reynoldston Gower hotel in Swansea.
Getting Ready at King Arthur Hotel
If you're getting married at King Arthur, and having your civil ceremony in the Avalon, then you'll be literally a stone throw away from your wedding. So wearing those wedding shoes will be no problem if they're kiler heels!
I love the ambient light at the cottage, if you follow my work as a wedding photographer in South Wales, you'll probably notice my wedding photography is more dramatic, rather than the traditional light and airy wedding photos.
Although upstairs in the main bedroom, it is actually light and airy, so I do photograph your preparations up there too, just to mix things up and give you a variety of wedding photos.
Ceremony at King Arthur Hotel
I am so grateful for my ultra-wide angle lens when photographing this beautiful room at King Arhur Hotel. Most of the wide angle lenses photographers use, won't capture as much in the photo as my ultra wife-angle lens would! You can just see everything, and you need to see everything, especially because of the beautiful craftsman ship with the oak in the Avalon.
So you can only imagine what your guests are thinking when they walk into this room, only to have you walking down the aisle later on too! WOW.. just WOW!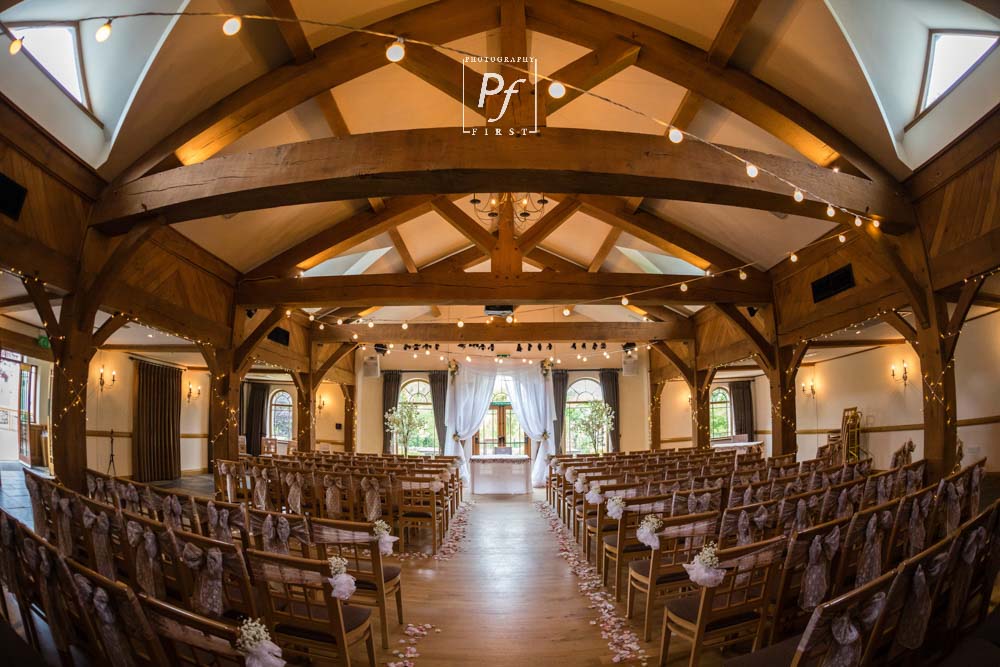 Group Photos at King Arthur Hotel
Once you're married – yay! You and your guests will enjoy welcome drinks served by the wonderful staff at King Arhur Hotel. If you're read the article on how I photograph your wedding day, you'll know I'll give you guys some time to mingle and chat to your guests before your group photos.
As a King Arthur wedding photographer, I'm allowed to pop up to the roof to get a wide shot of all your guests. This particular photo, the grass was wet, so we were gathered on the patio area. It took me a little effort getting this, as some guests were trying to hide beding the tree! Intentional or not, who know?!
King Arthur in the Rain with Group Photos
Don't worry if it rains on your wedding day, the staff at King Arthur Hotel are kind enough to move the furniture around so we can get your formal group photos inside the Avalon after your ceremony. To keep things on time, I try to get the formal grou photos done as quickly as possible, as the venue needs the room back, to make sure your wedding breakfast is served on time.
King Arthur Hotel Wedding Photographer
Couple Portraits the Gower Wedding Venue
Grounds at King Arthur Hotel
Take a look at the grounds King Arhur Hotel has to offer, and these are just a tiny bit of it. There's so many quirky little spots around the gardens, I, and I'm sure a lot of other people, love the little bridge that over looks the quiant little pond.
King Arthur Hotel's Meadow
When you think you've reached the end of the garden's at King Arhur Hotel, there's more! Just past the gate, you enter a meadow of wild flowers, bringing wonderful colours into your wedding photographs.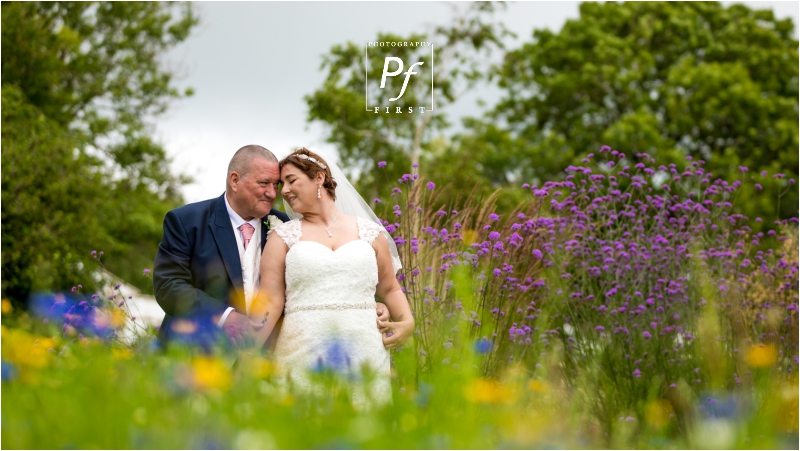 Wedding Breakfast at the Avalon in King Arthur
So this is the room where you had your wedding ceremony. It's amazing how quick the staff change the room around here, especially when it's raining and I borrow a bit of the room for group photos!
First Dance at King Arthur Hotel
The setting for the first dance is so lovely, I absolutely love the fairy lights around the whole room, and it makes first dance photos that little bit more atmospheric and romantic. What's more, is that there's another level above the bar, where I can get a different angle too, showing more of your guests, capturing the atmosphere too!
Dancefloor Photos at King Arthur Hotel
Don't forget, my shift doesn't end when your first dance is over! I still hangaround to photograph your guests cutting shapes on the dancefloor! If I like the music, I'll be on there too haha.
Evening Portraits at King Arthur
I haven't had much of an opportunity to photograph in the evening light at King Arthur Hotel, but when I have, I pop round the front to capture the sunset, here's the first wedding I photographed at King Arthur Hotel wih Victoria and Jason!
Rain at King Arthur Hotel
So what happens when it rains on your wedding day when you're at the King Arthur Hotel? We go outside of course!
A lot of couples book me because of the rain shots I do at evenings, a lot of brides, by the end of the night, don't care if they get wet, or their dress dirty. So it's the perfect time. Of course, if you don't want to go outside in the rain, then that's absolutely fine. I've captured rain photos with couples inside too, see Abbi and Morgan's Wedding at Craig Y Nos Castle. If you do want to go outside, and you won't want to get your dress wet, then you can always hold your dress up like Bobbie did at her wedding at the Ashburnham Hotel.
And if you're happy partying on the dance floor, and you don't want anymore photos, then that's absolutely fine too!
The Staff at King Arthur Hotel
So that's enough about me, I wanted to touch on the subject of the staff whilst I am here too. Every single time I have photographed here, I am treated with respect, and the friendliness and helpfulness of the staff here really deserves a mention. It's no wonder they keep winning wedding awards for the venue and wedding planning!
If you've not booked your wedding venue, here's their contact details if you would like to get in touch.
King Arhur Hotel
Higher Green
Reynoldston
Gower
SA3 1AD
01792 390775
View more weddings at King Arthur Hotel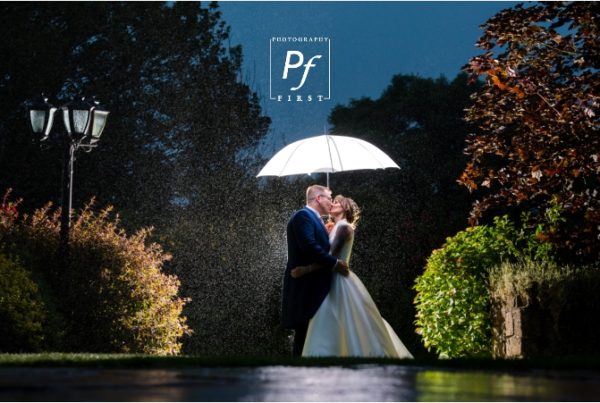 King Arthur Hotel Wedding Photographer Are you looking for a King Arthur Hotel wedding photographer? Here's a little write up about my wonderful expereince here at the Reynoldston Gower hotel…